Group Memebers
Investigation of biologicaly active compounds
Rada Baošić, PhD, full professor
Aleksandar Mijatović, PhD, assistant professor, University of Belgrade - Faculty of Mining and Geology
Danica Perušković, junior research assistant
Branka Darić, PhD student at UB-FC
Development and application of analytical sensors
Aleksandar Lolić, PhD, associate professor
Tatjana Tripković, PhD, Institute for the Protection of Cultural Monuments of Serbia, Belgrade
Mihajlo Kulizić, junior research assistant
Research Area
Schiff bases and their derivates
Nanotechnology and (bio)sensors
Flow injection analysis
Quality control
Public health and environmental factors
Risk analysis
The research group deals with the development of electrochemical sensors for determination of various pollutants (active pharmaceutical ingedients, heavy metals) in real samples (farmaceutical products, environmental samples), and with sinthesys, characterisation and investigation of new biologically active compounds.

Development and application of electrochemical sensors for flow injection systems.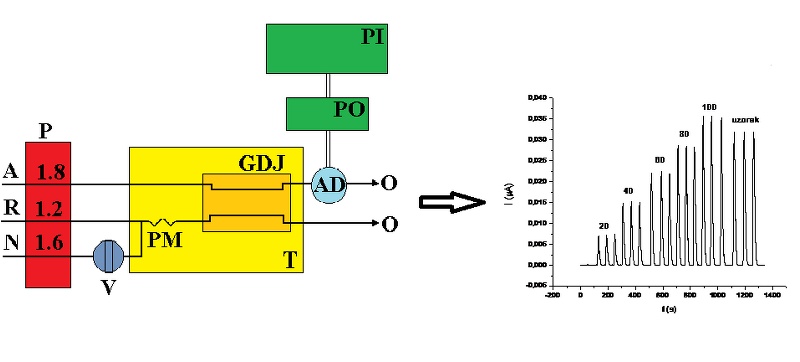 Synthesis and characterisation of biologically active compounds (Schiff bases), investigation of their activity, interactions with serum albumins and DNA, and the relationship between activity and structure.

The Equipment Used in Research
AAS with flame and electrothermal atomization (lab. 502)
Álectrochemical working station (lab. 502)
Flow Injection system with amperometric detection (lab. 502)
Spectrophotometer (lab. 502)
Spectrofluorometer (lab. 509)
Publications
V. Antunović, T. Tripković, B. Tomašević, R. Baošić, D. Jelić, A. Lolić, Analytical Sciences (2020)
https://doi.org/10.2116/analsci.20P302
D. Perušković, N. Stevanović, G. Kovačević, D. Stanković, A. Lolić, R. Baošić, Chemistry Select, 5 (2020) 1-6,
DOI: 10.1002/slct.201904873
V. Antunović, M. Ilić, R. Baošić, D. Jelić, A. Lolić, PLOS ONE, 14(2) (2019)
https://doi.org/10.1371/journal.pone.0210904
V. Antunović, R. Baošić, A. Lolić, Current Pharmaceutical Analysis (2020)
DOI: 10.2174/1573412916999200730234925
N. Stevanović, D. Perušković, U. Gašić, V. Antunović, A. Lolić, and R. Baošić, Biomedical Chromatography (2017) 31 (3), e3810,
DOI: 10.1002/bmc.3810
Partners