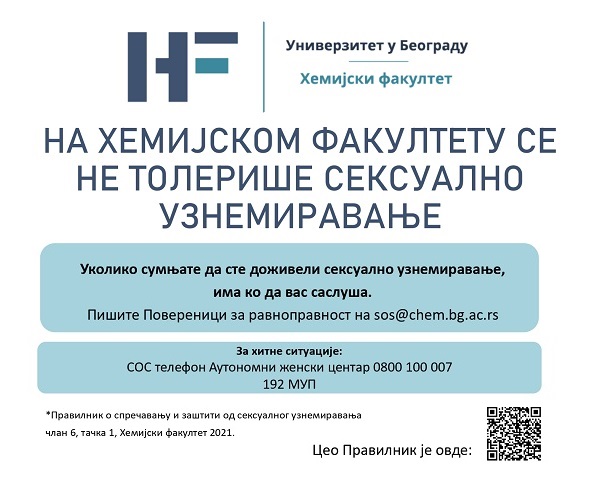 Sexual harassment at the Faculty of Chemistry is not tolerated, regardless of who is the victim and who is the perpetrator.
Sexual harassment is any unwanted verbal, non-verbal or physical act of a sexual nature that has the aim or consequence of violating the personal dignity of a student or an employee.
http://chem.bg.ac.rs/fakultet/pravilnici/Pravilnik_o_zastiti_od_seksualnog_uznemiravanja-2021.pdf
Forms of sexual harassment can be:
verbal – whistling, sexual allusions and jokes, written or spoken sexual jokes, offers and explicit threats,
non-verbal eyeing, furtive staring and sexual gestures, or
physical act – unwanted proximity, touching, pinching, patting, clinging to the body, grabbing.
This list is not exhaustive, just an example. If you have experienced sexual harassment, you will recognize it by the feeling of discomfort, shame, insult, humiliation, fear and anger.
Steps:
Consultation with the Commissioner
Victim's decision on further steps
Initiation of proceedings if the victim decides to do so
Further procedure if the perpetrator of sexual harassment is an employee/student
For details on actions and consequences, read the Rulebook on Prevention and Protection from Sexual Harassment, the Rulebook on Work Obligations and Work Discipline of Employees, and the Rulebook on Student Disciplinary Responsibility.
HF_protiv_seksualnog_uznemiravanja_-poster_A3.pdf (PDF, 646 KB)
Contacts
Resources