Events
FoodEnTwin Winter School 2020
Proteomics: From sample preparation to practical aspects
February 5th-8th, 2020, University of Belgrade - Faculty of Chemistry, Centre of Excellence for Molecular Food Sciences (CoE-MFS), Studentski Trg 12-16, Belgrade, Serbia
School Program (MS Word DOCX, 61 KB)
The First International Conference ImpARAS
The First International Conference:
Improving Allergy Risk Assessment Strategy for new food proteins (ImpARAS)
will be held at the Faculty of Chemistry in Belgrade, Serbia, from November 24th to 26th. You can find more information following this link.
Proteomics School - Theoretical and practical foundations
25 - 29. May 2015 Faculty of Chemistry, Belgrade
Applications for the practical part of the school with attached CVs should be sent to: skolaproteomike@gmail.com before 15. 5. 2015. The attendance fee is 2500 RSD.
Theoretical part of the school and the symposium are organized free of charge. Interested parties need to apply before 15. 5. 2015, by sending an e-mail to: skolaproteomike@gmail.com.
Programme (MS Word DOCX, 22 KB)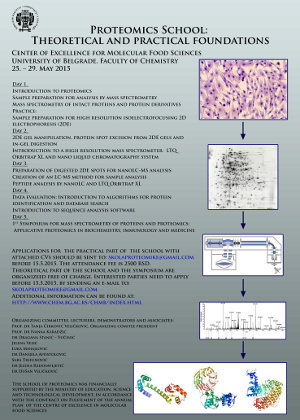 click on the thumbnail for the full size poster
(JPG picture, 1.7 MB)